Designed to reduce deep wrinkles/folds. This product line is for example perfectly suited for the lifting of nasolabial and marionette folds. Its potent cross-linking leads to longer lasting results after treatment.
Amalian II LT intense is a monophasic partially hydrated cross-linked hyaluronic acid filler.
It should be injected into the mid or deep dermis. The gel's viscoelastic profile makes it very fluid and easy to inject. Once injected, it becomes viscous again and an immediate volume augmentation of the skin occurs. Facial areas end up looking smooth, lifted and fresh. The gel is easy to inject and is suitable for nearly all applications except for sensitive areas such as orbita region, glabella or fore head.
This product is excellent for areas such as: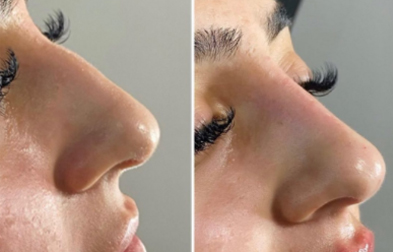 #AmalianInAction
See The Results
Treatment: Bridge of the nose contouring
Product: Amalian LT Intense
Longevity: 8-12 months
Benefits: Immediate Volume
Technique: Blunt Cannula
#AmalianInAction
See The Results
Treatment: Non-Surgical Rhinoplasty
Product: Amalian LT Intense
Longevity: Lasts up to 18 months
Benefits: Immediate Volume
Technique: Combination of Cannula and Needles